2023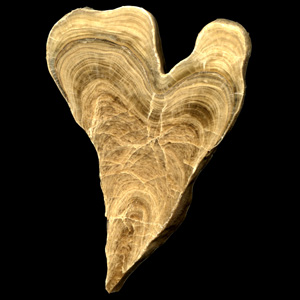 Isothermal thermoluminescence (ITL) dating of a speleothem from Bleßberg Cave Vortrag
29.06.2023, (17th International Luminescence and Electron Spin Resonance Dating conference (LED2023), Copenhagen (Denmark)).
2022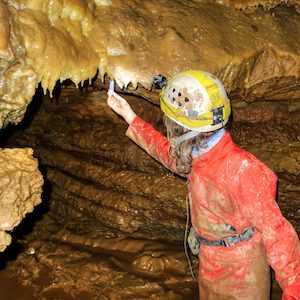 Bleßberghöhle – Schatzkammer für die Wissenschaft Vortrag
15.06.2022, (VdHK-Symposium: Wissenschaft unter Tage – Höhlenforschung im Dialog, Truckenthal (Germany)).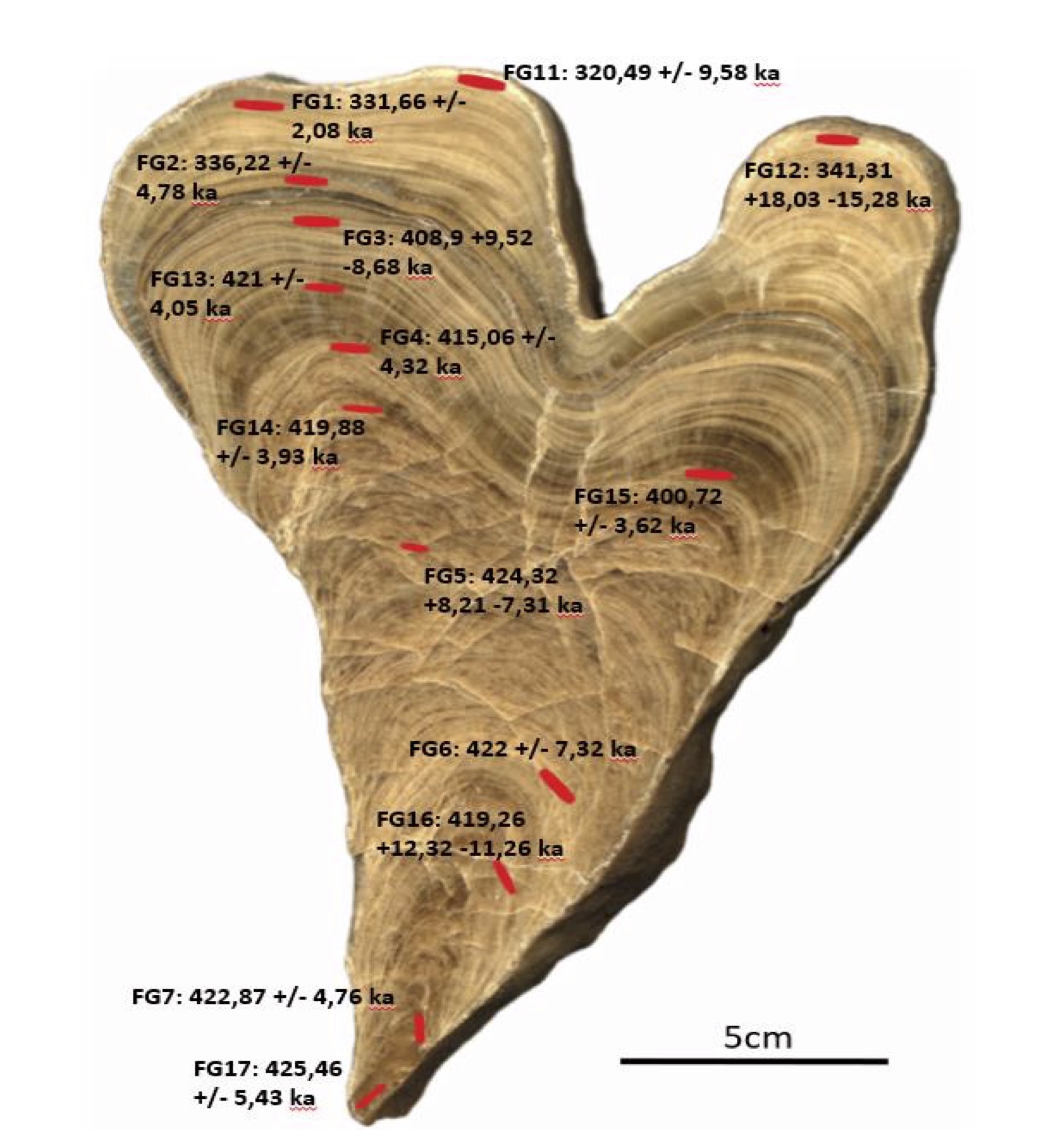 230Th/UU/Th-Datierung Die U/Th-Datierung ist eine sehr präzise radiometrische Altersbestimmung auf Basis der Uran-Thorium-Zerfallsreihe. Das Uran zerfällt mit bekannten Halbwertszeiten (245.500 Jahre) zum Tochterelement Thorium. Stalagmiten bauen bei ihrem Wachstum (fast) nur das wasserlösliche Uran ein, während das schlecht bewegliche Thorium zum größten Teil im Boden und Epikarst über der Höhle verbleibt. Das kann man nutzen, um die Zeit zu berechnen, die seit der Ausfällung der untersuchten Karbonatprobe vergangen ist. Moderne massenspektrometrische Verfahren erlauben Altersbestimmungen mit der U/Th-Methode bis zu 700.000 Jahren vor Heute. – DatierungDatierung Um einem Stalagmiten oder gar einer einzelnen Wachstumslage im Stalagmiten ein Alter zuordnen zu können, muß eine Datierung durchgeführt werden. Dies erfolgt in der Regel radiometrisch, d. h. über die Messung von Zerfallsprodukten (siehe auch U/Th-Datierung). eines Speläothems der Marinen IsotopenstadienMIS "MIS" ist die Abkürzung für "marine isotope stage", übersetzt also "Isotopenstadium mariner Sedimente". Da sich beim Wechsel von Warm- zu Kaltzeiten (und umgekehrt) die Isotopenverhältnisse in den Kalkschalen kleiner Einzeller (Foraminiferen) auf dem Meeresboden ändern, werden diese zur Datierung herangezogen und lassen sich zur Eingruppierung verschiedener Klimazustände in der Vergangenheit nutzen. Die MIS werden rückwärts nummeriert (also größere Zahl = älter) und ungerade Zahlen stehen für Warmzeiten, gerade für Kaltzeiten. 9 und 11 aus der Bleßberghöhle in Thüringen Bachelorarbeiten
Johannes-Gutenberg-Universität, 2022.
Die Bleßberghöhle – ein Glücksfall für die Klimaforschung Buchabschnitt
In: Thüringer Höhlenverein, e. V. (Hrsg.): Nächster Halt: Bleßberghöhle, Suhl, 2022.
2019
Recurrence based entropies Vortrag
07.05.2019, (Fourth International Conference on Recent Advances in Nonlinear Mechanics, Łódz (Poland)).
2018
2016
2015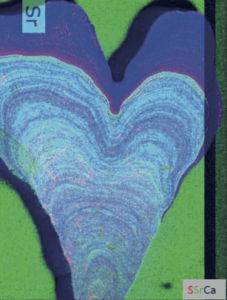 Insights in Bleßberg cave: Speleothem chronology and geochemical research Proceedings Article
In: 75. Jahrestagung der Deutsche Geophysikalische Gesellschaft in Hannover, 2015.
2014